Snack Attack
Each term, we ask for volunteers from the parent community to join our roster. This is a great way for preschool parents to get a feel for the primary and meet some primary children and parents.
Snack Attack is prepared each week by a team of 2 or 3 parents, so you will never be on your own. Profits go to provide equipment for the kitchen. To find out more or join the roster, please talk to Julie or Claire in the office.
---
How Snack Attack Operates
It is suggested that parents commit to helping with Snack Attack 1 date per term. Two or three parents are rostered each Wednesday. We get about 60 orders in primary and 20 in preschool. Meals are either prepared at home, brought into school then heated and served, or the kitchen is open from 9am to start cooking.
The following need to be put out around the barbecue outside the kitchen window:
4 pink/blue plastic draining boards
cutlery (in grey cutlery sorter in cupboard under front counter in the kitchen)
2 buckets (one with warm soapy water and one with warm clear water)
At some time before 12pm, the preschool meal orders and money collected need to be picked up from preschool and brought down to the kitchen so that you know how many to cater for that day. We walk up with preschool meals in time for serving at 12.15pm - the preschool staff will serve them. Primary comes out at 12.30pm for lunch.
Kids will wash their own plates, bowls, cups and cutlery and leave them in the draining board. Once the kitchen is cleaned up Snack Attack money is delivered to Julie C in the office.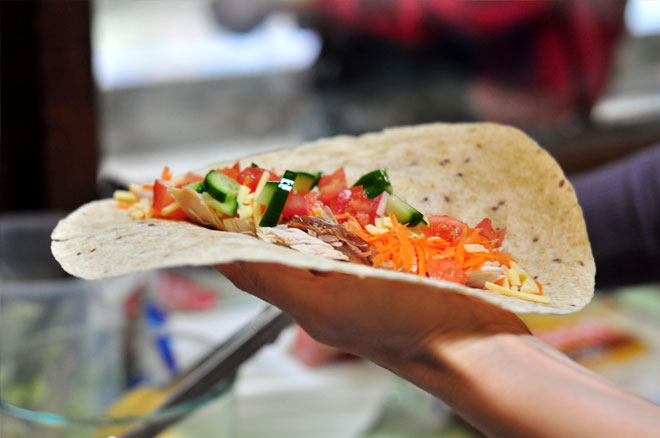 ---
How to plan and prepare for Snack Attack
2-3 parents are rostered each Wednesday, so you will never be expected to undertake Snack Attack on your own! There will always be at least one experienced parent rostered on each week, to help inexperienced parents or new parents prepare Snack Attack. Tasks are delegated amongst the parents rostered on each week (main, dessert, clean up etc).
Food/Menu Guidelines
Preferred foods are natural, preservative-free and organic where possible; i.e. homemade soups, pasta dishes, tacos, homemade pizza and rice/vege dishes.
Foods preferred not to be used are highly processed and refined foods; i.e. chips, sweets, pies, hotdogs, sausage rolls and high sugar foods.
Please be aware that Kinma has a no-nuts policy. Some children at Kinma are vegetarian or diary / gluten free. To accomodate everbody's needs, we ask that there is always a gluten/dairy free option and a vegetarian option available.
If you are unsure of ingredients or how to prepare Snack Attack, please talk to Julie or Claire in the office.