Friendship Seed stories
Volunteer Development Poverty Children School (VDCA)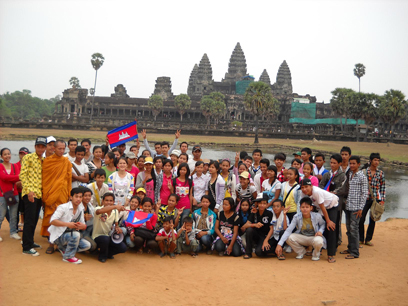 The VDCA is the Volunteer Development Poverty Children School in Siem Reap, Cambodia. The school was registered as an official NGO in Cambodia in September 2007 and functions as a supplementary school to the public school system for the majority of the children. Some students, however, are orphans or come from families who cannot afford the monthly fee of 6,000 Riel (1.50 USD) for public schools.
The school was first established in 2005 by two Buddhist monks, Rathana Nn and Togh Main, who wanted to give some of Siem Reap's poorest children a future by offering free education and advice. Within just four years, VDCA has evolved from two basic thatch classrooms to a large and colourful school with more than 600 students who enjoy learning and playing here.
This achievement was only possible with the help of numerous volunteers and supporters worldwide. The current school opened in August 2008 and offers free English classes and other courses to children and young adults. Regular teacher trainings and our international volunteer program constantly improve the quality of the education provided.
A core team of regional agents supported by a number of partners and numerous donors worldwide ensure the continuous development of the school.