---
Maths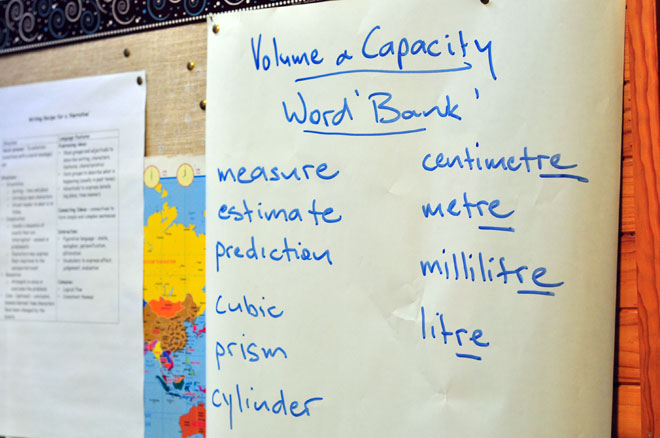 In numeracy we have been attempting to complete "Stefan's Outrageous Challenges" which are a mixture of extremely difficult construction and problem solving challenges.
For example, making a marble track more than 2 metres long that works, or a tower one metre high out of toilet rolls, or a domino tower exactly fifty centimeters high, or a bridge out of Lego with a span of more than one metre that can hold the weight of a tennis ball.
---
English/Literacy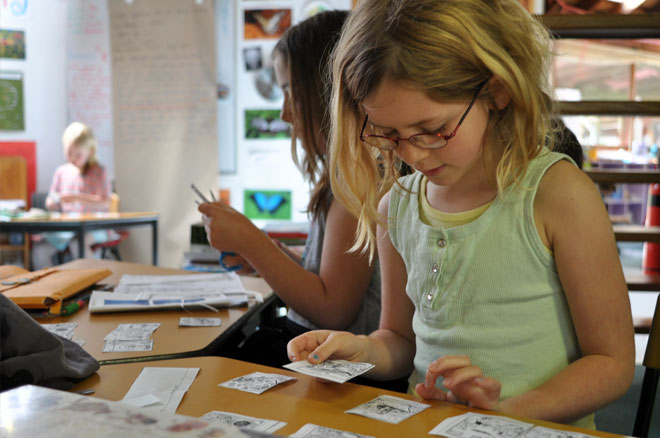 We will be listening to and writing our poems all this and next week in preparation for the poetry festival on the last Friday of term. We have been examining the work of Kenn Nesbitt at the moment. A very humorous and creative poet for kids.
Students are encouraged to bring in any poems they like and to think about a poem they might like to recite on their own or with friends at the poetry festival. We will also be reciting a poem as a whole class on the day- once we have decided which one we are going to do!
---
Theme-based learning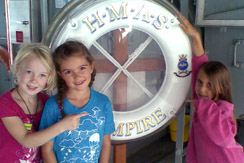 Our theme this term is boats.
We will be doing many literacy activities based on this theme including researching, narrative writing, jointly reading a class novel (Storm Boy), spelling and scientific experiments using our creek and local waterways such as Narrabeen lakes, Pittwater and hopefully Scotland Island.
We began constructing our boats from recycled materials and bits and pieces students have scrounged from around the home and neighbourhood.
---
Science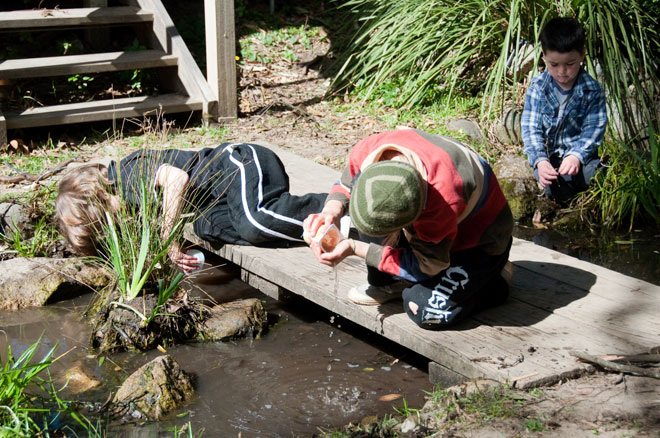 We had five brave volunteers plunge into our pink bath to demonstrate displacement (and how to behave appropriately while plunging into a bath!) Our brave volunteers were then keen to stay in the bath for the rest of the day -and even have their lunch in there!
---
Drama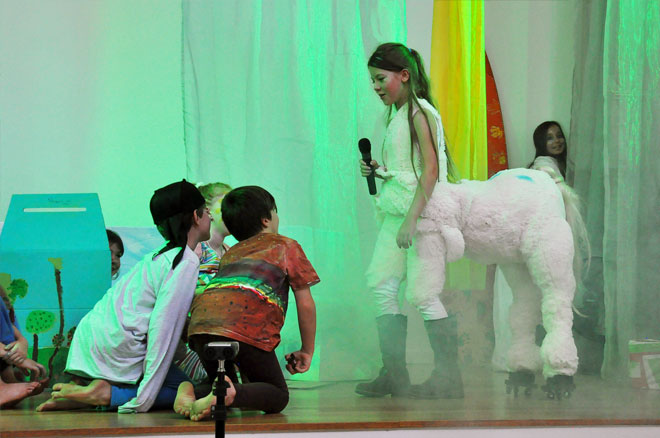 After rave reviews and the loudest applause I have heard for quite some time our class play came to an end last week with a smoothness and professionalism well beyond the thespian's years that created it.
The energy and enthusiasm was huge as we belted out our lines, danced til our legs almost fell off and spooked the daylights out of many a youngin'.
---
Enquiry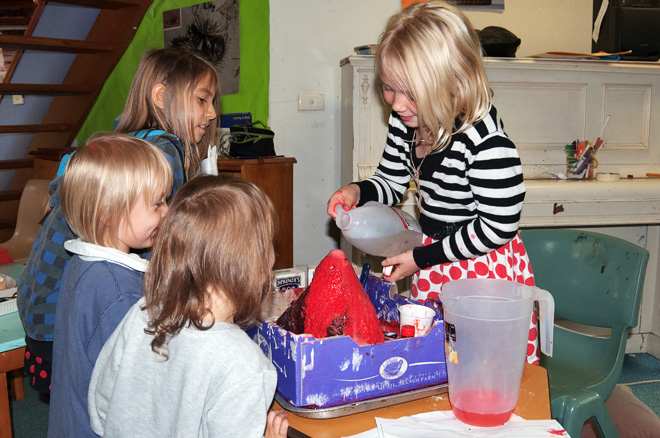 This week we have finally presented our research projects to both parents and the other two classes.
All visitors were very impressed with the diversity and creativity exhibited by all of our budding little researchers.
From Da Vinci's flying machines to the humble mobile phone we covered it!
---
Excursions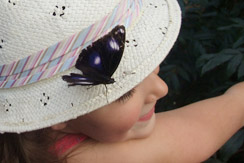 A massive week in the history of weeks this week as we once again made our way to 'Science in the City'.
For those of you who are unsure what this epic science experience is all about it is basically a mixture of awesome hands on activities, exciting interactive presentations and the glorious freedom to wander about the museum picking and choosing what you wish to explore and investigate (in small groups, with parental/teacher supervision, of course, at all times).
This preposterously educational journey is topped off with a rather generous serving of lunch and playtime across the road in Hyde Park, followed by another round of sniffing about the museum seeking out truffles of information ranging from the history of mankind to the tragic demise of the colossal Aussie mega beasts!!!
It's all things natural history and modern science with the added bonus of a temporary expo room full of enthusiastic scientific types bursting to share their areas of expertise and games/challenges with anyone and everyone!
It's a jam-packed day which leaves everyone absolutely ballooned with new found facts and information and the teachers staggering under the weight of pamphlets, freebies and informational show bags!