Vikraw and Shaw Lohar - Badgaon, Udaipur, Rajasthan, India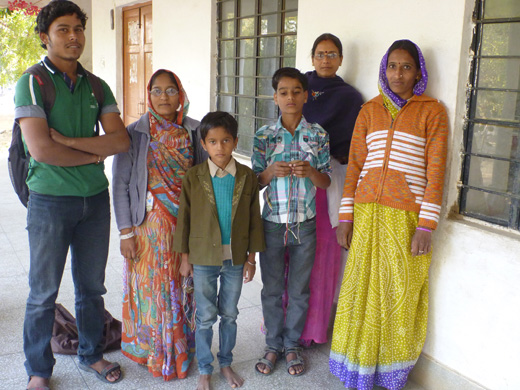 Vikraw and Shaw came across friendship bands when their mum started learning jewellery making from Satchin, also an ex student of Swaraj university.
Vikraw and Shaw made bands with other friends while their mothers made jewellery.
Satchin is starting a business which empowers all involved - designer( himself), makers ( village women of Badgaon) and even the clientele - with whom he hopes to build a much different relationship to that found between typical vendor and buyer.
Ravi's gang - Udaipur, India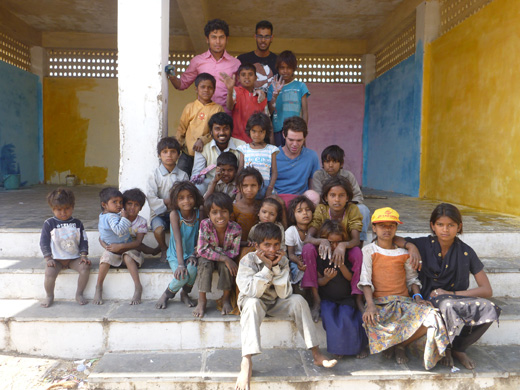 Ravi is an ex student of Swaraj University and is working with assorted margnalised communities to empower them. He presently spends time with a bunch of youth aged 3-23, learning about their passions so that he may support them to learn what they need.
In this photo you can see Ravi's gang painting the shared space- part of a HIndu temple- where they gather. The young people were enamoured with friendship bands and proudly wore their creations.
We are hoping to send more resources to avail them of other creative opportunities. Feel free to contact Ravi at This email address is being protected from spambots. You need JavaScript enabled to view it..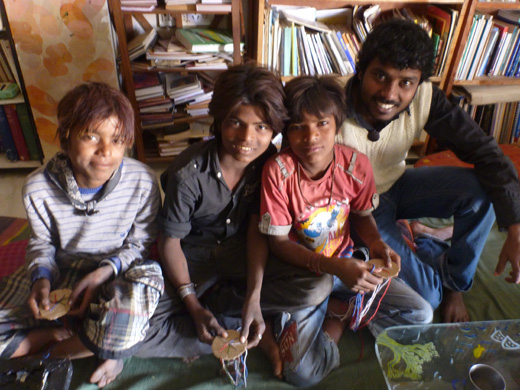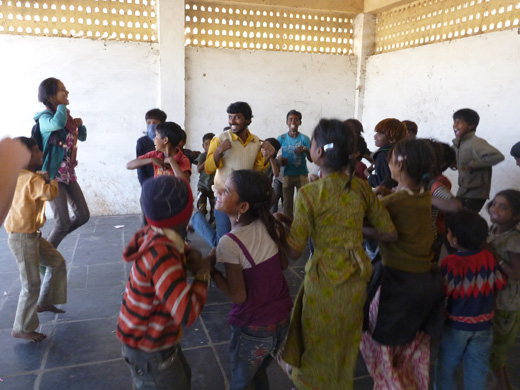 Shikshantar Learning Community and Swaraj university - Udaipur, India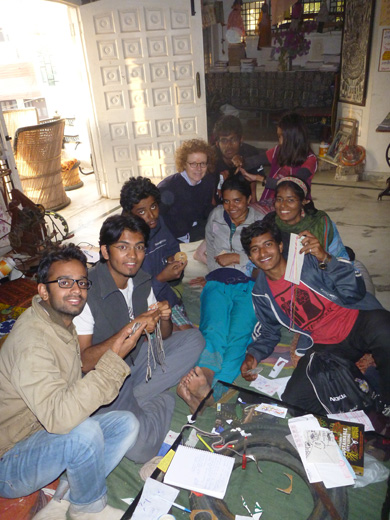 Juli spent 3 weeks at Shikshantar learning community in Udaipur, India. There she shared friendship bands with the welcoming people who were so excited to make them; as they are excited to learn anything.
At Shikshantar you find people of all ages teaching each other. You find people sharing their skills and learning from all in the local village in which they live and those surrounding them. They explore how best they can all live in wellness; they explore their food, their shelter, their music, their humour, their conflicts, the conflicts about them in the village, in their country and some of the challenges beyond.
You will find a group of young in an alternative university – Swaraj university, where the students decide what they need to learn with whom and from whom supported by mentors of many generations. They have the rare opportunity to live together on a rural campus 4- 6 times over two years exploring just what it is like to co-exist with others in community and to do the deep work of coming to be with 'self'.
Above all at Shikshantar you will find open hearts, open hands and open minds; such a warm invitation to join in on a learning/ unlearning journey … visit sometime if you are in the neighbourhood … www.swaraj.org/shikshantar/ or www.facebook.com/pages/Shikshantar-Andolan/126196370730355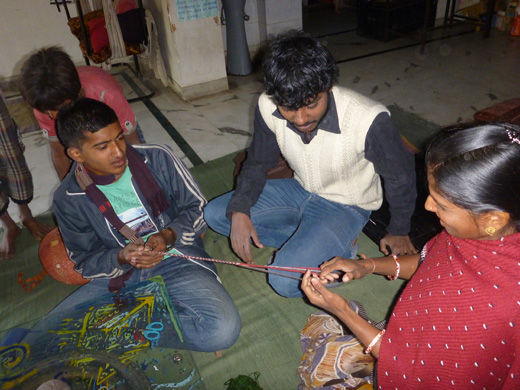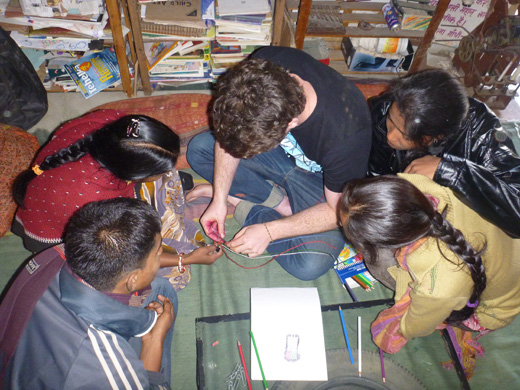 Leandra, Quinn and Micah from the Netherlands
Leandra and Quinn go to the Achtsprong, an elementary school base don Dalton principles. Leandra is in group 6 and Quinn in group 4. There are 8 groups in the school. Micah is not at school yet he will wait till he's 5. Our mum met juli g from Kinma in Germany and she told mum everything about the Friendship project. We hope we can get our friends in Spain and France involved in the project too.
Phu Nin orphanage, Vietnam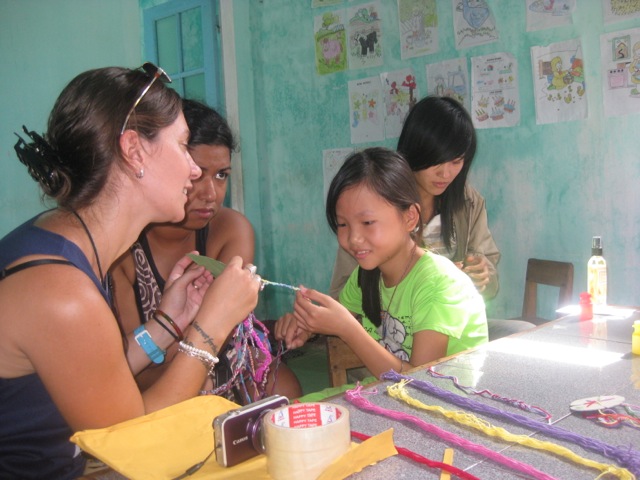 Jake ( 15) , Ellis ( 13) and Jackie ( their mum) are Australians who are travelling in Vietnam sharing their generous energy and resources with some communities. A friend of theirs, Anna, has lived in these communities for a year, sharing friendship bands made by Kinma kids with the children.
They all made some bands together with the community at Phu Nin orphanage - 20 minutes outside of Tam Ky.
Louisa and Fiona from Heidelberg, Germany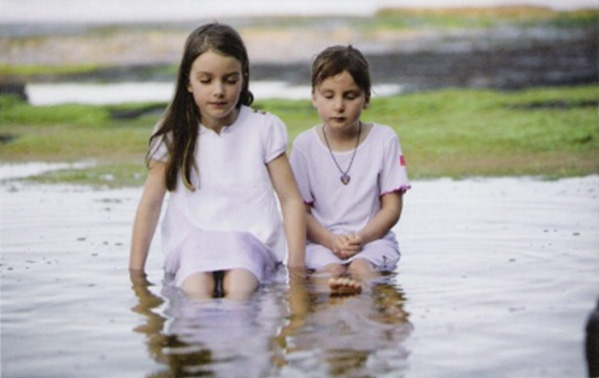 We are siblings and love to make friendship bands. Louisa is 7 and Fiona is 10. We live in Heidelberg and attend the same school here. We learn lots of English! Louisa was at Kinma for 3 years before we moved back home to Germany in July 2011.
Homeschooled Lachlan Murdoch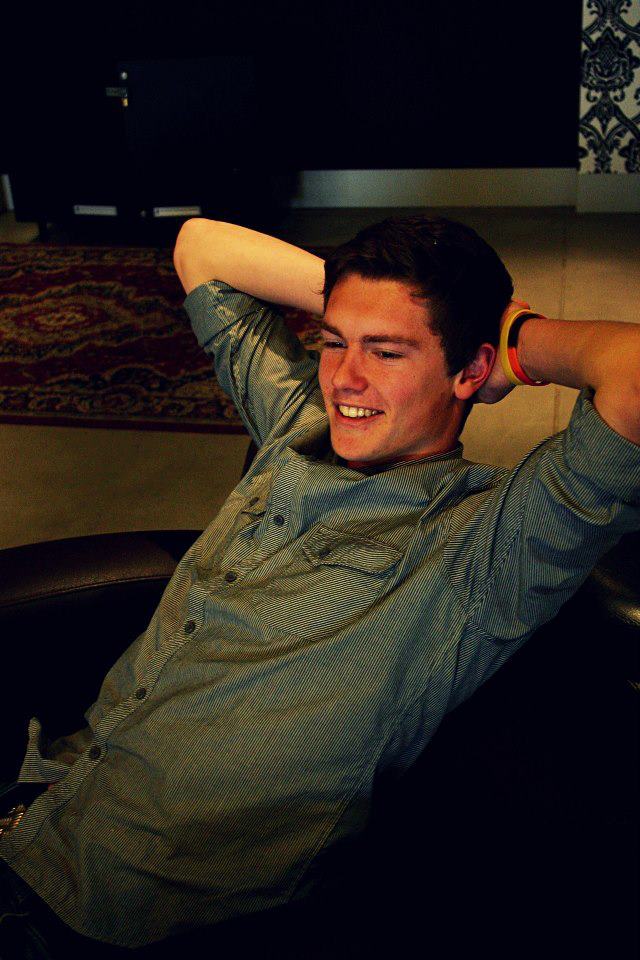 Lachlan is home-schooled in the Waikato region of New Zealand. At 17, he has a long experience of having mainly his mum as his teacher but he also connects to lots of other home-schoolers in his region. Lachlan did attend a Steiner school for one year.
He enjoys sports of all kind, music and hunting. He spends time In Australia as he has family and lots of good mates here!
He made a friendship band while he was here and is sharing with his sisters and cousins!
German International School Sydney (GISS)
Students from GISS school participate in every annual Friendship day at Kinma School. Each year students make bands at our special day and many enjoy taking them to share with friends. In 2012 Lola and Magalie joined children from 10 local schools – thank you girls!
GISS is recognised and sponsored by the German authorities and has recently been awarded "Excellent German School Abroad" which is part of a worldwide network with approximately 130 German schools world wide. At the same time it is acknowledged and funded by the Australian authorities as an Australian private school. Therefore most students are not only of both German and Australian backgrounds but come from all corners of the world. We have approximately 20 nationalities at our school. German and English are the two primary languages at GISS but many more languages and thus cultures are represented. All of our students and families form a vibrant, multicultural and caring school community.
Alexander Armenian School, Sydney, Australia
AGBU Alexander Primary School is part of the global network of bilingual Armenian schools established by the Armenian General Benevolent Union.
Students from Alexander school participate in every annual Friendship day at Kinma School. In 2012 students from Alexander school presented us with over 200 bands. We were very excited and once the bands have been attached to the giant band, a photograph will be uploaded here.
Thanks so much Alexander students.
Om Andelssamfundet, Ecovillage Denmark
Soffi and Sine from this ecovillage in Denmark helped make friendship bands at the Hungarian ecovillage conference. Check out the webiste for some of the amazing house designs in their village!
Sieben Linden Ecovillage, Betzendorf, Germany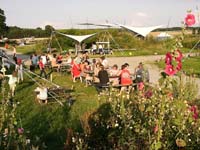 As an ecovillage, Sieben Linden works on the four pillars of ecovillages defined by the Global Ecovillage Network (GEN), which are Ecology, Social, Economy and Worldview Not all of these are equally important all the time though, in Sieben Linden a huge focus is put on ecological and social aspects.
There are close to 200 people living at Sieben Linden and Karina, one of the teenagers helped make friendship bands at the Hungarian GEN conference in 2012.
Torquay College Victoria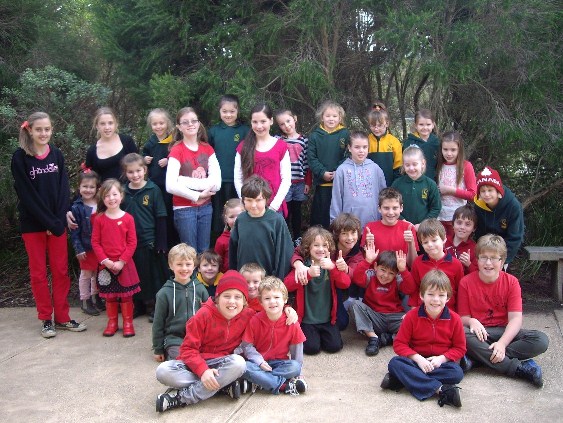 We are prep and Grade 6 students from Torquay College In Torquay, Victoria.
The grade 6 students are the preps' buddies, they help us throughout the year and are a familiar, comforting face for our preppies.
Torquay College is a very big school of approximately 840 stduents.
Matanitobua Memorial School, Fiji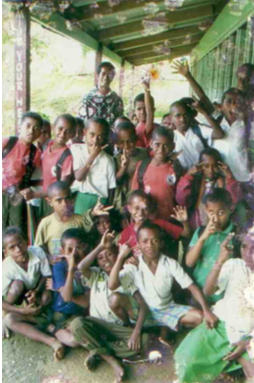 We are a school of 106 students in Fiji. We have 6 teachers. We are a boarding school so our students go home on weekends.
We are a disadvantaged school but that won't stop us joining the largest friendship band in the world.
Thanks for including us.
Carl Rogers School Hungary
120 students from 7-15 years plus a pre-school.
Languages spoken and taught: Hungarian, English
Our Principles: Confidence, authentic personality, positive acceptance (accepting people as they are), empathy.
Kinma students have maintained friendships with some children for over two years. Carl Rogers was one of the first schools in our Friendship Seed project.
Volunteer Development Poverty Children School (VDCA)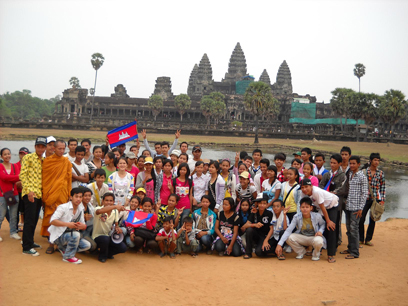 The VDCA is the Volunteer Development Poverty Children School in Siem Reap, Cambodia. The school was registered as an official NGO in Cambodia in September 2007 and functions as a supplementary school to the public school system for the majority of the children. Some students, however, are orphans or come from families who cannot afford the monthly fee of 6,000 Riel (1.50 USD) for public schools.
Read more: Volunteer Development Poverty Children School (VDCA)
Maroubra Bay Public School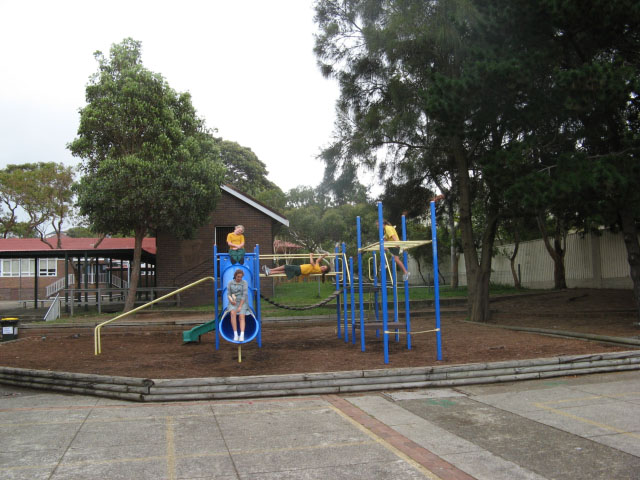 At Maroubra Bay School we have dance group, sport, Spanish, art, library and of course the other usual subjects. Our favourites are library and dance group because we like to read and move our bodies.
Library is fun because we get to enjoy reading in peace and listening to stories being read to us. We also like cricket and soccer. We are putting on a show of all our dances and song for Christmas !
In our school there are children from lots of different countries; South Africa, Papua New Guinea, France, New Zealand, Russia, Korea, Vietnam, Indonesia, Brazil and Chile.
Our school is very close to a beautiful beach – Maroubra Beach.
Zoe and Alyssa
The Northern School for the Blind, Chiang Mai, Thailand

The Northern School for the Blind provides education for the blind in Kindergarten, Primary and High School. There are 216 students 26 teachers and 39 other staff.
Read more: The Northern School for the Blind, Chiang Mai, Thailand
Ndiani Primary in Kenya, Africa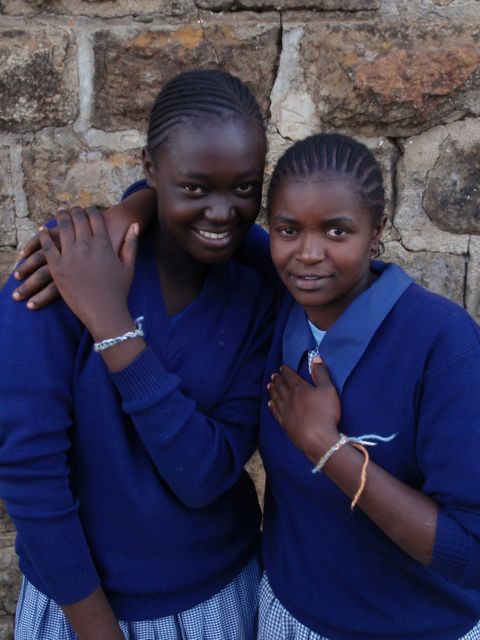 Ndiani Primary School is located in Thika, Kahawa Sukari, 15 km from Nairobi city in KENYA. The school has 610 students and 17 staff and caters for K-8 (Primary School in Kenya goes up to year 8).
The school is spread over approximately 500m sq of land and belongs to Kikuyu people (a tribe).
Classrooms are solid brick buildings and classes are split into year groups. The school has no electricity and students are lucky to share a desk with another student. Students get water from a water-way that is approximately 500m away and there are crocodiles and hippos there but children don't get hurt very often.
Classrooms have padlocks to keep people out. However, the small windows that are in the classrooms have usually been smashed and people can climb through them so there are no posters or other smaller resources in the room. If there was, they would be stolen.